AudioProbe LISA1 Cardioid Condenser Microphone
RM460.00
Valid For First Time Purchaser Only
Never expire
Description
AUDIOPROBE LISA1 CARDIOID CONDENSER MICROPHONE
The development process of LISA Microphone was a new challenge for engineers in AUDIOPROBE Inc.
First of all, we had to enclose two key components; professional-grade diaphragms, which would pair well with high-quality microphone preamps of SPARTAN products, and Impedance Converter to make our LISA series perform well with many other audio interfaces on the market. Last but not least, our microphones should be compact for convenient home recording in addition to affordable for everybody.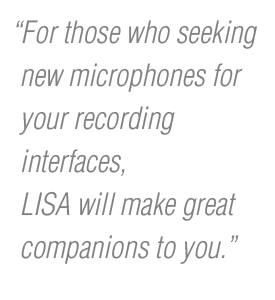 We chose high-quality large diaphragms enabling LISA to collect very linear sound throughout wide dynamic and frequency range. We also designed an optimized low-noise preamp for those diaphragms. Compared to previous condenser microphones, LISA was designed to be about 30% smaller, through which we achieved convenience as well as reduced production cost.
Only a few companies can develop both audio interfaces and microphones in-house. With SPARTAN CUE, AUDIOPROBE already set a new standard of mic preamps within the realm of audio interface, and LISA was built upon these knowledge and our electroacoustic technology. For those who seeking new microphones for your recording interfaces, LISA will make great companions to you.
Large Diaphragm
All models of LISA cardioid microphone series are equipped with large diaphragms for precise wide-dynamic-range recording.
With studio professionals in mind, LISA9 is furnished with a 35mm diaphragm and a high-quality preamp. It will provide the precise recording capability for both voice and acoustic instruments.

34mm diaphragms, which both LISA1 and LISA3 are equipped with, are rarely found in other products within the similar price range. To ensure the best performance within home acoustic environments, LISA1&3 is designed as microphones with extra sensitivity, suitable for voice recording and Podcasting. Both models are bundled with a desktop tripod for your out-of-the-box recording experience.
LISA1 is available in two colors: Red and White. In addition to the same 34mm diaphragm, LISA3 has the internal low-cut switch.
Great Companions to SPARTAN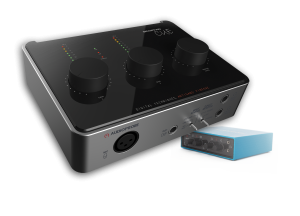 LISA series will be perfect match for any kinds of mic preamps thanks to its Discrete FET Impedance Converter and Low Impedance output based on Transformerless output circuitry. Whether it is solid-state, tube, or any other preamps.
When you connect LISA with SPARTAN CUE's ultra low-noise mic preamp, you may experience surprisingly low-level noise even at the gain level of +40dB. Just with SPARTAN CUE and your choice of LISA, you can not only do professional-level recording, but Podcasting with vivid sound. With SPARTAN CUE and LISA, wherever you can sit and record is your studio.
Bundled Accessories
LISA series comes with what you need. All models are bundled with a leather pouch for carrying and storing. For LISA 1&3, a desktop tripod and hard-tail mount are provided for your recording and broadcasting. For professional-level recording experience, LISA 9 includes a shock mount and windscreen as a basic configuration.

The Shock Mount for LISA3 sold separately.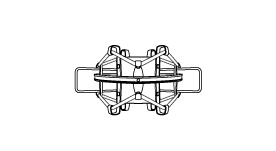 Features
Trendy and compact industrial design with Red/White Color available.
Cardioid Polar Pattern
34mm Gold Sputtered Large Diaphragm allows smooth & detailed sound signature to be reproduced perfectly.
Transformerless circuitry with high quality discrete components.
Affordable and great build quality which are ideally for podcasting, home recording, or internet broadcasting user.
---
Specification
Acoustic Principle
Pressure gradient transducer
Active Electronics
FET impedance converter with transformerless output circuitry
Capsure
34mm Gold sputtered diaphragm
Directional Pattern
Cardioid
Frequency Response
20Hz to 20kHz
Sensitivity
(1kHz, into 1kohm)
-34dBV/Pa
Rated Impedance
200 ohms
Rated Load Impedance
1000 ohms
Maximum SPL
for THD 0.5%
125dB SPL
Power Requirement
+48V(+/-4V)
Current Consumption
< 4mA
Connector
XLR3F
Dimensions and Weight
104mmH x 53mmW x 51mmD, 310g
Frequency Response