Superlux CMH8B Large Diaphragm True Condenser Microphone
$ 108.77
Valid for Wavebone Headquarter Series only.
Never expire
Valid For First Time Purchaser Only
Never expire
Description
Video
Reviews (0)
Description
SUPERLUX CMH8B LARGE DIAPHRAGM TRUE CONDENSER MICROPHONE
Superlux CMH8B, a 1-inch gold-plated diaphragm condenser microphone with champagne silver finish, offers the most vibrant tone you'll ever want for your vocal and instrument recording. It incorporates skillful workmanship to fulfill the requirements of almost all applications and conditions.
CMH8B has a fixed cardioid single diaphragm that captures every incoming sound in front of it. It reproduces the warmth in the mid-frequency with a little more of the sound definition. Along with its additional features such as the built-in High Pass Filter, it eliminates unnecessary low-frequency noises such as footsteps and air-handler noise and a-10dB pad option for large SPL instruments such as kick drum or violin. The CMH8B is a mid-priced unit when there is no need for multi-directivity.
Features
Use for Studio / Broadcast / Vocals / Woods / Strings / Acoustic Guitar / Piano / Brass / Percussion / Eastern & Western Instruments
1 inch Gold-coated diaphragm
Champagne sliver finish
A3 protective plastic carrying case
Transformer output
Specification
Type: True condenser,Ø1″ (Ø25.4 mm)
Polar pattern: Cardioid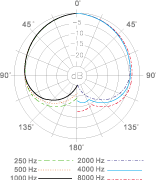 Frequency response:30-20,000 Hz

Low Frequency Filter: 100 Hz, (internal)
Pad: -10 dB
Sensitivity: -34 dBV/Pa (20 mV/Pa) (at 1,000 Hz Open Circuit Voltage)
Rated impedance: 200 Ω
Minimum load impedance: 1000 Ω
S/N Ratio: 76 dB
Equivalent Output Noise: 18 dB
MAX. SPL: 142 dB
Dynamic range at 1 kΩ load: 124 dB
Power supply: 48 V DC 2.7 mA
Connector: XLR3M
Dimensions: Ø54 × 200 mm(Ø2.13″ × 7.87″)
Net weight:550 g(19.4 oz)
Packaging: A3 protective carrying case, colorful outer packaging