IK Multimedia iRig 37 Pro Full-Sized-Key MIDI Keyboard Controller For Mac/PC (USB only)
$ 113.27
Valid For First Time Purchaser Only
Never expire
Description
IK MULTIMEDIA IRIG 37 PRO FULL-SIZED-KEY MIDI KEYBOARD CONTROLLER FOR MAC/PC (USB ONLY)
THE AFFORDABLE 37 KEY USB MIDI CONTROLLER FOR MAC/PC
Affordable portable — Hit the Road
Ever have an idea on the road but didn't have a way to quickly turn it into something real? Or maybe you just want to practice in some downtime on the bus or jam a pick-up gig and don't have the space to bring the full rig… Now you can with iRig Keys 37 PRO, an ultra affordable and extremely portable full sized key USB MIDI keyboard controller for your Mac or PC. It features 37 full-sized velocity-sensitive keys (that's a full 3-octave range plus 1 note), takes up minimal space and can easily fit in a backpack or a carry-on bag for use on the go with your laptop.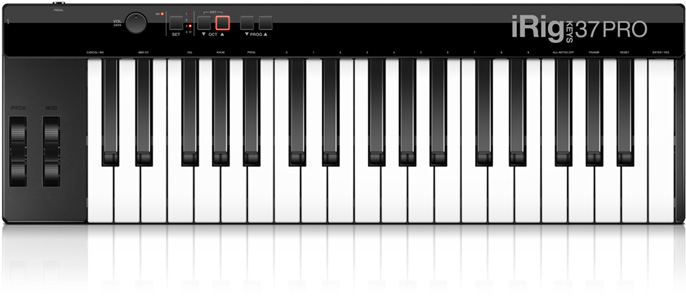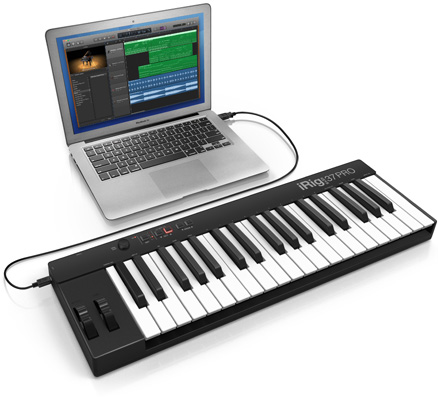 You want plug-and play? iRig Keys 37 PRO is both MIDI and USB class compliant, which means you just have to plug it in, fire up your favorite program, and you'll be ready to go. No additional apps, software or drivers are necessary to get it up and running.
iRig Keys 37 PRO has been made with your mobility in mind: It doesn't require a power cable because it gets all of its juice from the USB port of the connected Mac or PC.
Keyboard player? Producer? Something in between? You're going to find a lot to like in iRig Keys 37 PRO. Now you can be ready any time and anywhere that inspiration strikes you…iRig Keys 37 PRO will help you turn the musical ideas and melodies of your mind into songs and compositions you can hear with your ears.
You can also use iRig Keys 37 PRO for live performance and other creative uses. It comes with a complete spread of powerful software from IK Multimedia that will help you get started immediately.
Size matters
When it comes to portability, iRig Keys 37 PRO is the leader in its class. Compared to 11 of its closest competitors — all compact MIDI controllers with full-size keys playable with 2 hands — iRig Keys 37 PRO is the smallest in width and height, and among the smallest in depth. It gives you an unbeatable combination of compactness, convenience, and pro features.

iRig Keys 37 PRO is the most compact full-sized-key MIDI controller on the market – up to 30% smaller than other full size MIDI keyboard controllers.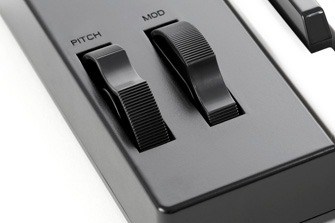 A small controller with big features
Comfortable. Expressive. Musical. You're going to be thinking about all of these things when you first put your fingers on iRig Keys 37 PRO. Its 37-key keyboard gives you a full 3 octaves (plus 1), which is the widest octave range available on a mobile keyboard of its size.
iRig Keys 37 PRO includes all the controls you need to play at your best: Modulation and pitch-bend wheels, velocity sensitivity, an optional input for sustain or expression pedal, octave up/down buttons, 5 soft-touch backlit buttons and a volume/data knob.
You can even change and save the keyboards settings (things like MIDI channel, button reassignments, keyboard transposition) with the "Set" button. You can store up to 4 different configurations, which is pretty handy. It allows for quick sound switching and easy control of various instruments or apps on the fly.

Plug and play out of the box
To get you started right away, iRig Keys 37 PRO comes with some pretty powerful software. This software can be downloaded and played with immediately, making for a true plug-and-play experience straight out of the box. You get: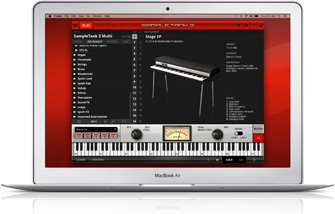 SampleTank 3 SE, a special version of the ultimate sound and groove workstation for Mac/PC that includes an expandable 6.5 GB sample library that includes instruments in categories that cover everything from acoustic to electronic and beyond (to be downloaded from the IK Multimedia online User Area). It works as a stand-alone program or as a plug-in for all major DAWs, like GarageBand, Logic, Pro Tools, Cubase, Live, Sonar and more.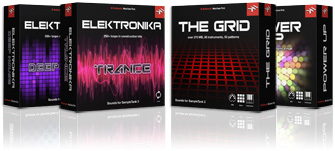 When you register your iRig Keys 37 PRO, you'll also get a bundle of free instrument collections that you can use to expand your creativity even further. You get The Grid, a collection of cutting-edge electronic construction kit and drum kit sounds plus 5 instrument collections of your choosing from our Beats and Elektronika electronic music series (choose and download from IK User Area).
Features
37 velocity-sensitive full-sized-keys (3 full octaves range plus 1 note)
Modulation and pitch bend wheels
Volume/Data knob (assignable)
Octave/Program Up/Down back-lit, soft-touch buttons
SET button to store and recall 4 different customized setups
Input for an optional sustain or expression pedal
USB class compliant (Mac/PC) – plug and play
Powered from the Mac/PC USB
Comes with free Mac/PC software: SampleTank 3 SE (download from IK User Area)
Comes with free Mac/PC virtual instrument collections for SampleTank 3: The Grid plus 5 collections from Beats and Elektronika series (choose and download from IK User Area)
Includes USB cable for Mac/PC
Compatible with iOS (requires optional Camera Connection Kit or Lightning to USB Camera Adapter)
Compatible with Android (requires optional USB-OTG adapter)