MIDIPlus X6 61-Key MIDI Keyboard (Discontinued)
$ 160.15
Valid for Wavebone Headquarter Series only.
Never expire
Valid For First Time Purchaser Only
Never expire
Description
MIDIPLUS X6 61-KEY MIDI KEYBOARD
Unprecedented appearance design
Strong and light metal body, both sides are clear texture clear matte coating wood. The primary color of X6 is white, the upper right corner is the X6 LOGO, which makes you feel full of sense of science and technology, avant-garde and beautiful. White body and black base give you a strong visual impact.

With four assignable knob controller
Assign any parameters you need to control to any one of these knobs, default control are 1.Volume 2.Pan 3.Expression Controller 4.Reverb
Connect to MiniEngine USB Sound Module
No need to turn on the computer, no software required, all you need is connect X6 to an external audio source, and then insert a headphones or speakers for playing, With MIDI engine USB portable Sound Module, you can choose tones, control the size of reverberation, chorus depth and so on, which means that you now have a 128 realistic sounding instruments' MIDI keyboard.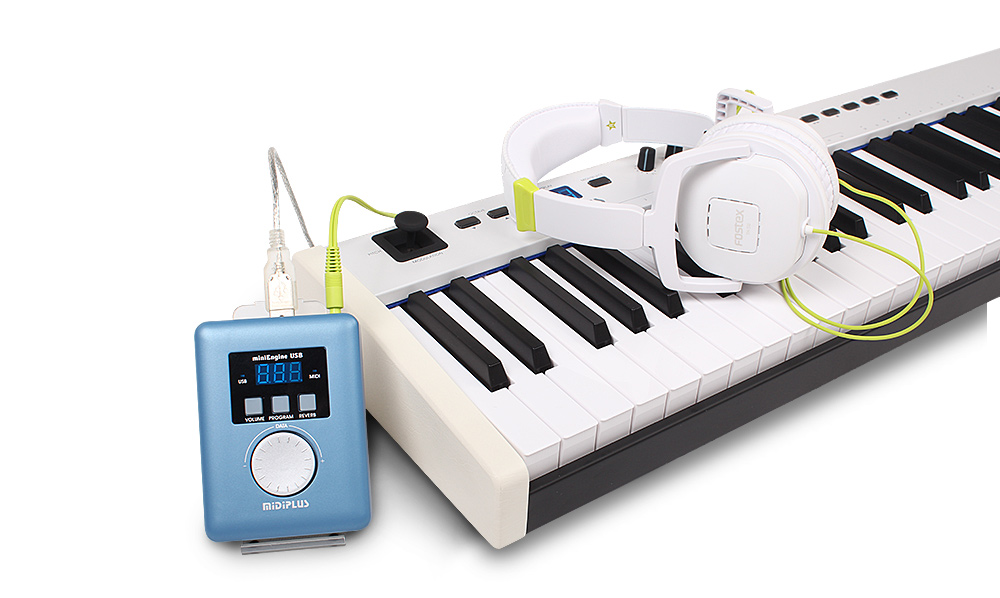 Compatible with a variety of DAWs
Plug and play, no additional power supply. Compatible with Cubase, FLzStudio ,Logic, Live and other digital audio workstation software. Just one USB cable can get you quickly into a creative environment.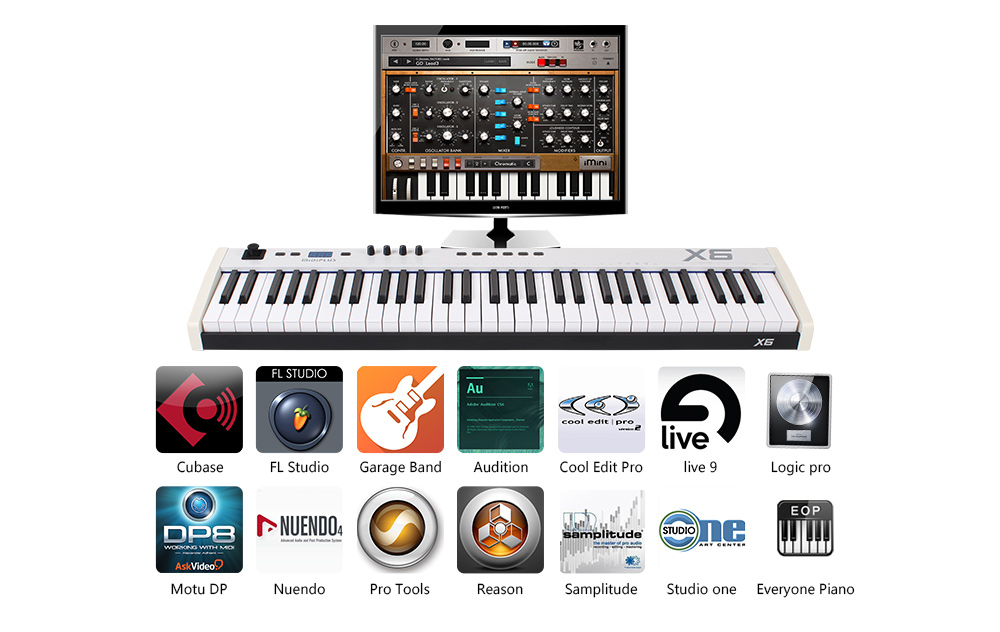 Connect to iPad
What's more, using a MIDIPLUS iLink cable, you can connect X6 to an iPad. It is compatible with any apps that supports CoreMIDI. Such as Garage band, Piano Apprentice、 iGrand Piano、Music Studio. Make music. Make fun. 
Features
61 volecity sensitive keys

USB power supply, no external power supply needed

Plug and play, no driver needed

Connecting to computer with one USB cable gets you quickly into a    creative environment

Brand new joystick controller, which use for controlling Pitch and Modulation

MIDI/Select Mode switch and Octave up/down buttons

4 assignable knobs, default control: 1.Volume 2.pan 3.Expression   controller 4.REVERB

6 assignable transport buttons with default mapping.

1 MIDI OUT, which for sending data to a computer, or use as a MIDI  controller

SUSTAIN input, which could be used to connect to a pedal.

Size: 885mm x 215mm x 60mm

Weight: 7kg