IK Multimedia iRig Mic Studio (Black) Digital Condenser Microphone For IOS, Mac, PC & Android
$ 183.64
Valid for Wavebone Headquarter Series only.
Never expire
Valid For First Time Purchaser Only
Never expire
Description
IK MULTIMEDIA IRIG MIC STUDIO (BLACK) DIGITAL CONDENSER MICROPHONE FOR IOS, MAC, PC & ANDROID
Introducing iRig Mic Studio, IK Multimedia's ultra-portable large-diaphragm digital condenser microphone for iPhone, iPad, iPod touch, Mac, PC and Android. It packs a 1" diameter condenser capsule into an ultra-compact enclosure that can be used to make professional-quality recordings anywhere. Great for musicians, vocalists, home producers, podcasters, broadcasters, voice-over artists and more, it puts the superior power of a large-diaphragm microphone into the palm of your hand.
Big sound, small size
What's remarkable about iRig Mic Studio is that it offers its truly amazing recording quality in an enclosure that's smaller than an iPhone. It features a large 1" diameter back electret condenser capsule, a 24-bit audiophile-grade A/D converter (with 44.1/48 kHz sample rate) and a built-in low-noise high-definition preamp. These, combined with its 133dB SPL rating, allow for optimal recording at any sound pressure level — it can capture everything from the subtle and nuanced dynamics of the human voice to the full-on bombast of an amplified electric guitar, and everything in between.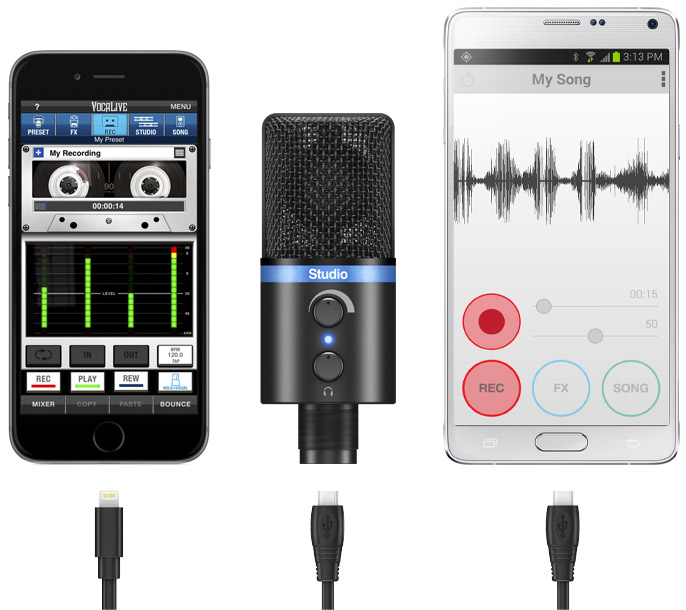 A full suite of controls
To ensure you'll always record at your best, iRig Mic Studio comes with a full set of flexible controls: It has a gain control knob and a multicolor LED level indicator. It also includes a headphone output with its own level control for onboard monitoring directly from iRig Mic Studio itself. And, for better positioning while recording, iRig Mic Studio comes with a sturdy and portable tabletop tripod stand.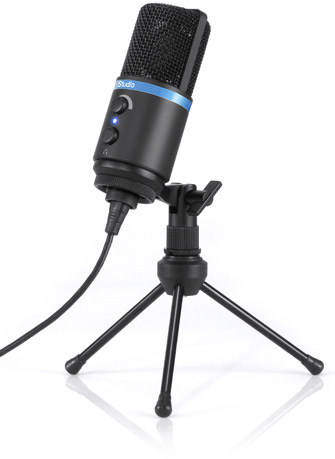 All this is to say that iRig Mic Studio is equipped with everything you need to capture the highest quality sound no matter whether you're at home in the studio or recording while on the go.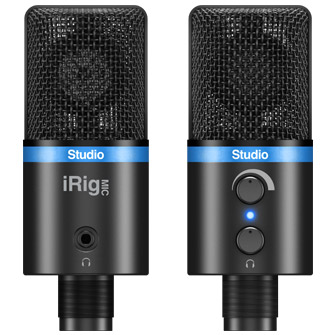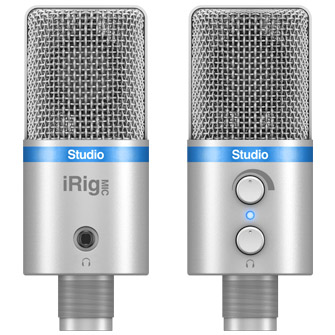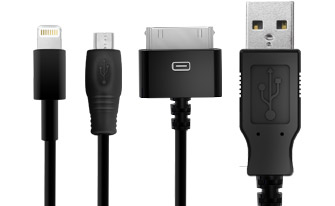 It's all about the connections
iRig Mic Studio is compatible with all your favorite mobile and desktop platforms. It comes with a female micro-USB port and an assortment of cables: Micro-USB to Lightning for iPhone, iPad and iPod touch; micro-USB to micro-USB OTG for Android (requires either an Android 5 or Samsung Professional Audio device); and micro-USB to USB for Mac and PC. A micro-USB to 30-pin cable is available separately for older iPhone, iPad and iPod touch models.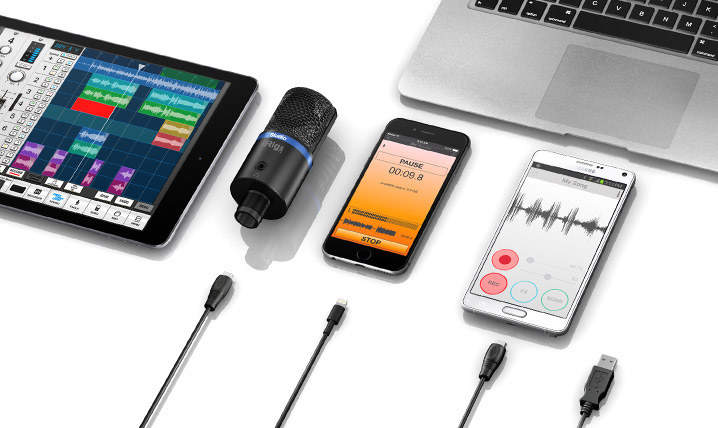 Record with the power of apps
For immediate recording, iRig Mic Studio comes equipped with a powerful suite of vocal apps that match its cross-platform compatibility. iPhone, iPad and iPod touch users will be able to enjoy VocaLive, a powerful effects processor and multi-track recording app that features a selection of 12 professional real-time vocal effects. EZ Voice for iPhone, iPad and iPod touch and EZ Voice for Android are streamlined and easy-to-use sing-along apps that make it easy for vocalists to practice with any song in their music library. iRig Recorder for iPhone, iPad and iPod touch and iRig Recorder for Android are straightforward apps for field recording, podcasting, note taking and more. Mic Room, the microphone modeling app for iPhone and iPad.
Features
Professional studio microphone with large-diaphragm capsule
Ultra-compact size that's easy to carry around
High-quality 1" back electret condenser capsule
24-bit converter with 44.1/48Khz sampling rate
Low-noise, high-definition preamp
Integrated headphone output
Multicolor LED status and level indicator
Onboard gain control and headphone level control
Comes with a full suite of IK apps
Includes portable tripod tabletop stand
Includes Lightning, Micro-USB OTG and USB cables
Available in black or silver version